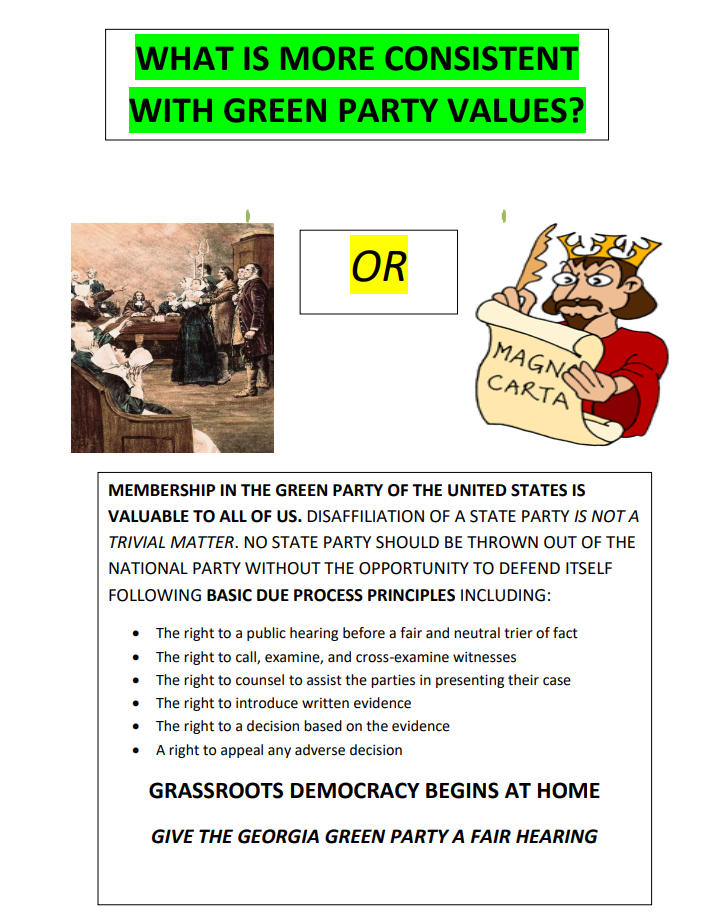 One would think that Greens could agree on a presumption of innocence and on the importance of procedural due process.  Surely we agree that a complaint seeking the dis-accreditation of a state party or accredited identity caucus creates an adversarial process.  Historically we have two directions we can go:  witch trials and kangaroo courts or the tradition of common law eminating from the Magna Carta. 
Please share this leaflet to help educate Greens about what the basics of due process might look like.  
What is more consistent with Green Party Values?
Witch Trials OR the Magna Carta?

MEMBERSHIP IN THE GREEN PARTY OF THE UNITED STATES IS VALUABLE TO ALL OF US. DISAFFILIATION OF A STATE PARTY IS NOT A TRIVIAL MATTER. NO STATE PARTY SHOULD BE THROWN OUT OF THE NATIONAL PARTY WITHOUT THE OPPORTUNITY TO DEFEND ITSELF FOLLOWING BASIC DUE PROCESS PRINCIPLES INCLUDING:
The right to a public hearing before a fair and neutral trier of fact
The right to call, examine, and cross-examine witnesses
The right to counsel to assist the parties in presenting their case
The right to introduce written evidence
The right to a decision based on the evidence
A right to appeal any adverse decision
GRASSROOTS DEMOCRACY BEGINS AT HOME
GIVE THE GEORGIA GREEN PARTY A FAIR HEARING!